If you are interested in finding out a little more about the fascinating history of Ferrara here are some historical "gems" for you:
1 – Estense Castle
Open: March – September every day, 9.30 am – 5.30 pm
October – February closed on Mondays
Originally built in 1385 by Niccolò II d'Este to defend his family, this magnificent fortress over the years became the ducal residence for the Estense family and is a "must" when you visit Ferrara. Lots of events, both historical and modern, revolve around the castle throughout the year. Inside there is lots to explore including the dungeons, and Room of the Games with amazing frescoes on the ceiling. You can go up the Lion's Tower, which has a wonderful view over the rooftops of Ferrara, and in the summer months it is possible to take a little guided tour around the moat for something different. Why not have a coffee in the castle's café and soak up the atmosphere?

Admission: 8 euros, 6 euros under 18s, 1 euro under 12s, free under 6
2 – Casa Romei
Via Savonarola 28/30 , Ferrara's city centre
Open: Sun – Wed. 8.30 am – 2.00 pm, Thurs. – Sat. 2 pm – 7. 30 pm
This is a delightful nobleman's house which is open to the public and is well-worth a visit. As with most Italian museums/ stately homes, inside they are often bare, compared to English stately homes and castles, but the frescoes on the wall are lovely and you get a real sense of how it would have been to live there. The house has a fusion of Medieval and Renaissance elements and boasts an elegant courtyard.
Admission: 3 euros, 1.50 euros (18 – 25-year olds), free (0-17 year old)
3 – Palazzo Schifanoia
Via Scandiana, 23 Ferrara's city centre
Open Tues. – Sun. 9.30 am – 6 pm
Its name means to "avoid being bored" and it was originally built for the duchesses and ladies of court for their entertainment. The frescoes in the Room of the Seasons is particularly impressive.
Admission: 3 euros, under 18s
4 – Palazzina Marfisa d'Este
Corso Giovecca, 170, Ferrara's city centre

Open: Tues. – Sun. 9.30 am – 1 pm / 3 pm – 6 pm
This 16th century villa was built by the son of Duke Alfonso I and Lucrezia Borgia and was inherited by the Princess Marfisa d'Este. It is open to the public and the gardens are used in the summer for open-air concerts.
Admission: 4 euros, free for under 18s
5 – Cathedral Museum
Ex Chiesa di San Romano, Via San Romano, Ferrara's city centre
Open: Tues. – Sun. 9.30 am – 1 pm / 3 pm – 6 pm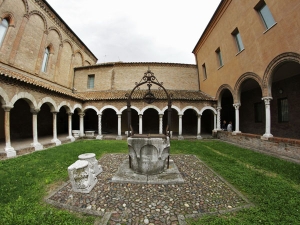 This tiny, but precious museum, holds some of Ferrara Cathedral's most hidden treasures, including work from Cosmè Tura, illuminated manuscripts, paintings and other works of art from Ferrara's past.
Admission: 6 euros, free for under 18s
6 – Abbey of Pomposa
Pomposa – SS 309 Romea
The beautiful Romanesque Abbey of Pomposa was founded in the 6th century A.D. It became famous for having one of the biggest libraries of its time and for hosting the inventor of the modern musical notation, Guido d'Arezzo. There are quite a few buildings to explore, including an interesting museum. It is also possible to go up the bell tower, but only at certain months during the year. It makes a lovely ride out through the surrounding Ferrarese villages, especially in autumn when you can often find stalls selling pumpkins along the roadside.

Admission: Free admission the first Sunday of each month. Free admission in the church on Sundays and holidays. The rest of the complex 3 euros. Free admission for children up to 17 years old.
7 – Este Castle of Mesola
Mesola, Piazza Santo Spirito
Open from mid-March: Tues. – Sun. 9.30 am – 12.30 pm / 2.30 pm – 5.30 pm
April to October: Tues. – Sun. 9.30 am – 12.30 pm / 3 pm – 6 pm
This rather imposing castle was built by one of the last Dukes of Ferrara for the court to use during the hunting season but it has not been restored to its former use. Today it simply houses the library and historic archive, as well as the Museum of the Wood and Deer of Mesola. It is a, however, particularly nice drive out to Mesola, and around the castle there are little shops and cafés. In the spring months the castle's grounds becomes a fair for asparagus,
which is grown in that area.
Admission: 4 euros, children and O.A.P. 2.50 euros
8 – Delizia del Belriguardo
Voghiera, Strada Provinciale, 274
Open: Fridays to Sundays, 9.30 am – 12 & 3.30 – 7pm
This was the first stately home to be built outside the city walls in 1435. It was also considered at the time to be one of the most luxurious with beautiful rooms, gardens, ponds, stables and out houses. Sadly, much of its splendor has been lost but it is still possible to visit some of the rooms, the civic museum and exhibitions which are housed there today. This estate also comes alive at the beginning of August, when theit hosts the traditional Voghiera garlic festival which is fantastic.

Admission: 5 euros, 2 euros for under 18
9 – Delizia Estense del Verginese
Gambulaga, Via del Verginese
Open: Saturdays and holidays, 10 am – 12.30 pm /3pm – 6 pm (Nov. – March)
Open: Saturdays and holidays, 10 am – 12. 30 pm / 3.30 pm – 7 pm (April – Oct.)
Tel: 0532 323258, 335 236673
Built by the architect Girolamo da Carpi from an existing farmhouse, this delightful villa was once a favourite of the last wife of Duke Alfonso. It was originally built on the medieval banks of one of the branches of the Po, which no longer exists. It looks like a miniature castle but it was simply a beautiful villa for the Estense family to enjoy.

Admission: 3 euros, 2 euros for 6 – 12 years old & over 65, free 0 – 6 years old
10 – Mesola Wood – Po Delta
Bosco Mesola, Via dei Frassini, 24.
Open from March to October on Tuesdays, Fridays, Saturdays and holidays from 9 am – one hour before sunset.
These ancient woods were naturally formed on one of the coastal belts between the 12th and 15th century. In the 16th century the woods ran alongside the areas used by the Este family during the hunting season. Sadly, over the centuries the woods were damaged by projects to drain the land, as well
as through natural causes. Thankfully the woods have become a fully protected nature reserve along with the wildlife found within the woods. For this reason not all the park is open for the public, but from the trails which are reserved for cyclists, people or by the eco-friendly wagon, it is still possible to spot deer and admire the birds, animals and particular fauna. You can go further into the woods with a guide and this really is worth it as you get a proper feel for this ancient wood. Our newsletters often remind you of particular dates when the park is open for guided tours but check on the above website too.
Admission: 1 euro, free for children up to 6 years old