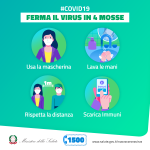 The doors of our school have reopened after the COVID-19 pandemic. We are delighted to have you back with us! To ensure everyone's safety, we are carefully following state guidelines and all the Smiling Staff have been trained in the required hygiene procedures.
This section contains the latest information on how to stay safe at school, according to COVID-19 regulations.
Frequently asked questions are answered in this section of the site. If you have any further questions, please contact us and we will be happy to help.
Please note: all documents are in Italian, in accordance with Italian Ministry of Health procedures.