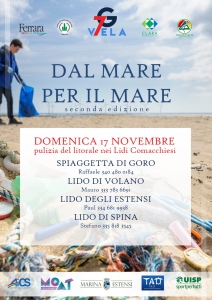 17 NOVEMBER, 2019
A day in which Smiling students will join forces with the organisers of this welcome initiative (see the links above) to help save the sea: we are providing coach transport to Lido degli Estensi, where we will join other volunteers to clean up our beautiful beaches. Your efforts will be rewarded with a lunch all together. Don't forget to bring a pair of gloves to pick up the litter on the beach.
PARENTS AND CHILDREN WORKING TOGETHER FOR A BETTER WORLD
8:30 Meet at Piazzale S.Rocco, near Farmacia n.1
9:30 Arrive at Lido degli Estensi and begin picking up litter
12:30 Lunch at Quelli di Flip, a restaurant in Porto Garibaldi
15:30 Return to Ferrara
Adult menu
Fried fish + a drink + coffee
Children's menu
Pizza +a drink
or
Cutlet + chips + a drink
Cost (transport and lunch)
Parents €22 per head
Children €20 per head
If you wish to take part, send an email to admin@smilingservice.itno later than Monday 11th November, stating your child's choice of menu.