Here are some ideas for what to do on rainy days:
CINEMAS IN FERRARA
UCI Cinemas (multiscreen)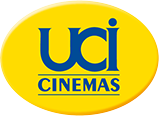 Via Darsena, 77
This is the biggest cinema showcase in Ferrara with 10 screens. It has lots of different membership cards to help reduce costs. For example, there is a "kidsclub" card where children and adults pay only 3 euros and a "Cineforum" card where you pay only 4 euros on Mondays. Some films are shown in English too. The website is rather complicated but with a bit of patience you find out what films are showing and at what times week by week.
Apollo Cinepark
Piazza Carbone, 35
This is another one of Ferrara's main cinemas which is in the town centre, so it is easy to get to. It sometimes shows films in their original language.
Cinema Santo Spirito
Via della Resistenza, 7
This is a much quieter and smaller cinema run by a friendly couple, which often shows independent films.
Cinema San Benedetto
Via Don Enrico Tazzoli, 11
This is a low cost cinema which has a slightly smaller screen but a high quality projection. It still shows popular films but at a later date, so it is a perfect solution is you have missed a film at one of the larger cinemas.
Cinema Boldini
Via Gaetano Previati, 18
This theatre becomes a tiny cinema which offers a different programme. Films are often of cultural and historical interest. It occasionally shows films for children.
---
MUSEUMS IN FERRARA
The ticket offices for most museums tend to close half an hour before the actual museum
Natural History Museum
Via de Pisis, 24 (in the town centre)
Open from 9 a.m. – 6 p.m. Tuesdays – Sundays
(Closed on Mondays)
Tel: 0532 203381
This is a small museum but it is well-set out. It makes a great effort to improve its displays and events each year. It often has workshops for children and schools. It also hosts local artists' work and photography exhibitions. It is worth looking at the website to see what events are taking place each month. Admission: adults 4 euro, free for children up to 18
National Archaeological Museum
Via XX Settembre, 124
Open from 9.30 a.m. – 5 p.m. Tuesdays – Sundays
(Closed on Mondays)
Tel: 0532 66299
Visit the Etruscan city of Spina, the Hall of Gold Jewellery, "Spotlight on the Museum" and the Garden of Gods.
Admission: adults 6 euro, free for children up to 18, visitors aged 18 – 25 3 euro and 1 euro to visit the garden.
Estense Castle

February – September open daily
October, November, December & January closed on Mondays
Mondays – Fridays, 9.30 a.m. – 5.30 p.m.
Saturdays and Sundays 9.30 a.m. – 6 p.m.
Tel: 0532 209370
For a rainy day the Castle obviously has to be mentioned! It is an interesting visit for everyone and a "must" if you come to Ferrara. Visit the Orange Tree Gardens, the Hall of Games, the Chamber of Dawn and the Castle's dungeons. Climb up the Torre dei Leoni for a breathtaking view of Ferrara.
Admission: Adults: 6 euro, children aged 12 – 18: 4 euro, under the age of 12: 1 euro, family tickets available.
Tel: 0532 244949
Museum of Casa Romei
Via Savonarola, 30
Open from 8.30 a.m. – 2 p.m., Sundays to Wednesdays
2 p.m. – 7.30 p.m., Thursdays – Saturdays.
This is a delightful little museum of a nobleman's house, right in the heart of Ferrara. It is a personal favourite!
Admission: Adults: 3 euro, free for children up to 18, 5 euro for adults if there is an exhibition on. The first Sunday of each month is free.
Museum of Palazzo Schifanoia
Via Scandiana, 23
Tel: 0532 244949
At the moment the museum is closed for restoration, but when it opens it is well-worth visiting. It was used by the Estense family for entertainment and 'avoiding the boredoms' of life at court. Its name means exactly this in Italian!
The MEIS Museo Nazionale dell'Ebraismo Italiano e della Shoah
Via Piangipane, 81
Tuesdays, Wednesdays, Fridays & Sundays: 10 a.m. – 6 p.m.
Thursdays: 10 a.m. – 11 p.m.
This is an important and interesting museum which looks at the history and culture of Judaism in Italy. The museum houses many precious and rare manuscripts, documents and artefacts, which have helped piece together the history of the Jews in Italy and around the world.
It is also possible to visit the synagogue and Jewish museum in Via Mazzini (which became the Jewish ghetto area when the Papal government took over the Estensi family's rule). The history of Jews in Ferrara is a fascinating story and can be traced back to the 12th Century.
Via Mazzini, 95
Tel: 0532 210228 (guided tours only)
Palazzo dei Diamanti
Ercole I d'Este, 21
Tuesday – Sundays: 10 a.m. to 5.30 p.m.
Closed on Mondays.
This notorious landmark of Ferrara hosts several art exhibitions each year. What is not always known to many people is that it is also home to the National Picture Gallery. It is a smaller but important gallery, which was created in order to collect and house Ferrarese paintings, which would otherwise have been dispersed.
Admission: 6 euro (3 euro reduced tickets)
The Cathedral Museum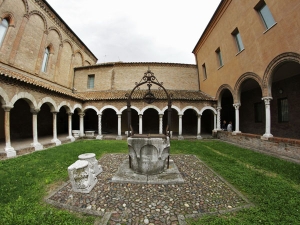 Via San Romano (Ex – Chiesa di San Romano)
Tuesdays – Sundays: 9 a.m. – 1 p.m. & 3 p.m. – 6 p.m.
Closed on Mondays
Tel: 0532 244949
This museum hosts a historical collection of treasures belonging to Ferrara's Cathedral, including illuminated manuscripts, hymn books, organ panels painted by Cosmè Tura, other paintings and religious artefacts.
Admission: Adults: 6 euro, children up to 18: free, over 65: 3 euro
---
LIBRARIES
Biblioteca Ariostea
Via Scienze, 17
Open Mondays – Fridays, 9 a.m. – 7 p.m.
Saturdays 9 a.m. – 1 p.m.
Biblioteca Giorgio Bassani
Via Grosoli, 42 (Pontelagoscuro)
Tuesdays – Saturdays, 9 a.m. – 1 p.m.
Tuesdays – Thursdays, 3 p.m. – 6.30 p.m.
Closed on Mondays
This library, is in the nearby village of Pontelagoscuro. It has a nice reading room for children and each Wednesday at 5 p.m. there is a "Story-time" suitable for children aged between 4 and 10.
Book Shop/Library – "Testaperaria"
Via De' Romei, 19/A
Mon. – Wed., Fri. – Sat.: 9.30 a.m. – 1 p.m. & 3.30 p.m. – 7 p.m.
Thursdays: 9.30 a.m. – 1 p.m.
This is a fantastic book shop, which has recently opened in the centre of Ferrara, for children and older boys and girls. It holds reading groups, presentations for adults, and excellent arts & crafts workshops for children each month. It is well-worth visiting their website to keep informed about what is taking place. Here are some examples of some of their workshops and events:
"C'è…AriadiStorie"
Every Monday at 5 p.m. stories are read to children by Irene.
Free. Suitable for children aged 3 +
"ArteperAria"
Arts and crafts workshops held by Manuela Santini, once a month, to get to know different artists and their stories. Check on the website each month to see what workshops there are. They are suitable for children aged 5 + and last about 2 hours. They cost 6 euro.
You need to book a place: 0532 202823
Friday 23rd March, 5 p.m.
Renè Magritte – Surrealism
(Collage and pastels)
Friday 20th April, 5 p.m.
Louise Bourgeois – "Show me your fears"
(Different art techniques)
Friday 18th May, 5 p.m.
Alexander Calder – "Appendilo al Cielo"
(Thread, buttons and imagination)
Other Arts & Craft worshops at "TestaperAria":
"Se un ago e un filo si incontrano…."
3 sewing workshops held by Rita Venturoli:
Saturday 17th March, 5 p.m.
Little Monster – making a little monster.
Saturday 14th April, 5 p.m.
Doggy Bau – creating a friend to take with you everywhere.
Saturday 28th April, 5 p.m.
Gufetto combinaguai – making a little owl.
These workshops are suitable for children aged 8 + and cost 6 euro. Please book by telephoning: 0532 202823
---
SWIMMING POOLS IN FERRARA

(Swimming hats are compulsory)
Piscina Comunale Ferrara
Via Beethoven
(Indoor and outdoor pools)
This swimming pool has received the best reviews on-line.
There are three swimming pools. The largest is designated mainly for the public without an instructor (nuoto libero). Some fitness courses take place in this pool, but there are always 2 or more lanes guaranteed for the public. The middle-size pool is used for courses, but it can also be used without an instructor on Sundays from 2.30 p.m. – 6.30 p.m. The smallest pool is used for children's courses.
Opening Times:
In winter:
Mondays, Tuesdays, Wednesdays & Fridays: 7 a.m. – 10 p.m.
Thursdays: 9 a.m. – 10 p.m.
Saturdays: 9 a.m. – 8 p.m.
Sundays: 9 a.m. – 7 p.m.
In Summer:
Mondays – Fridays: 7 a.m. – 9 p.m.
Saturdays & Sundays 9 a.m. – 8 p.m.
Admission: Adults: 7,50 euro, children aged 4 – 13: 6,50 euro, Children aged 0 – 3: free. It is possible to buy different membership cards for free-swimming to save money.
C.U.S. 2
Via Liuzzo (off Via Canapa)
(Indoor and Outdoor pools)
Swimming for the public:
Mondays – Fridays: 7.30 a.m. – 3 p.m. & 7.10 p.m. – 10. p.m.
Saturdays: 9 a.m. to 3 p.m.
Sundays: 9 a.m. – 1 p.m.
(The website does not give prices)
Piscina Comunale
Via R. Bacchelli, 103
(Indoor Pool)
1 or more lanes are always guaranteed during opening times for anyone who wants to swim without an instructor.
In Winter:
Mondays, Wednesdays & Fridays: 7 a.m. – 10 p.m.
Tuesdays & Thursdays: 8 a.m. – 10 p.m.
Saturdays: 8.30 a.m. – 7 p.m.
Sundays 8 a.m. – 1.30 p.m.
Times will change slightly in the summer.
Admission: Children up to the age of 5: free, discount for children aged 6 – 15 and over 65s
---
Other Entertainment
Bowling Estense
Via Pianelle, 44123 Francolino
Opening times:
Tuesdays – Thursdays, 8.30 p.m. – 1 a.m.
Fridays 8.30 p.m. – 2 a.m.
Saturdays 5 p.m. – 2.30 a.m.
Sundays 4 p.m. – 1 a.m.
Prices include shoe hire, and children up to the age of 14 pay only 3 euro per game. There is also a promotion which offers that the more matches you play the less you pay! Obviously weekdays are cheaper than the weekends but the promotion includes the weekends too.
There is a bar which also sells food and a games arcade which includes favourites such as 'Flipper' and table football.
Mini-Mega Mondo
Via Bologna, 300 (behind McDonalds)
Monday Closed
Tuesdays/Wednesdays/Thursdays, 4 p.m. – 8 p.m.
Fridays 4 p.m. – 11 p.m.
Saturdays and Sundays 3.30 p.m. – 11 p.m.
This is an indoor park with trampolines and bouncy castles, run by an association. There is also a role-play, book corner and soft area specifically for babies. For adults there is a bar and seating area. It is suitable for children up to 10 years old. It is also a popular place for parties.
During the week children pay 6 euro and during holidays and on Sundays 8 euro. You can use this indoor centre only if you become a member (un 'socio') which costs 12 euro per year.